Top 5 Dive Sites in Puerto Galera:
More than 30 dive sites. 1 week is not enough of your vacation time.
But I´ll give you my Top 10 anyway! Depending on your level, interests and experience, we know where to take you to get that dive high.
For macro photographers, we definitely have some of the BEST macro spotters here.
Look no further if you're after nudibranchs, moray eels, shrimps, squids, pygmy cuttlefish and seahorses. Sea turtles are also plenty in season!
For adrenaline junkies, our 20 years of diving experience in Sabang, Puerto Galera will help ensure safe diving when the currents are as strong as a hurricane at Canyons, Verde Island or Alma Jane. Most divers will agree that Sabang, Puerto Galera is well known for very good and very fast drift diving!
Read our Top 5 and don't forget to check out our dive map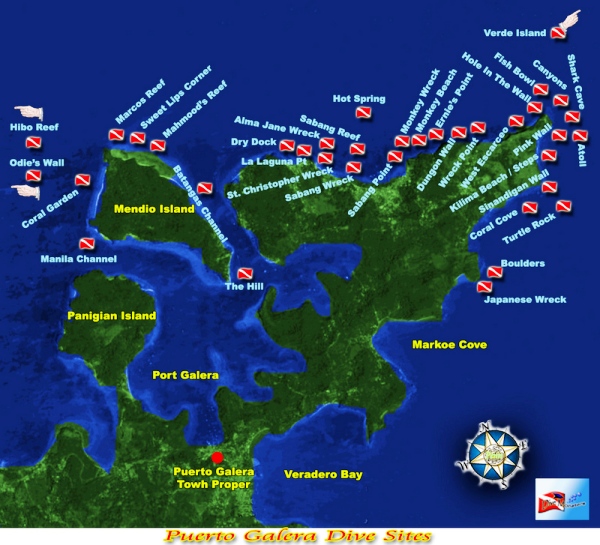 My No. 1:
Canyons
A world class exhilarating drift dive, this is "the dive" to do in Puerto Galera if you are an experienced diver with a taste for the fast and furious. Drop in close to the Hole in the Wall and let the current take you deeper along the slope until you reach an area where currents and mother nature has formed three spectacular canyons in the reef. The canyons all have sheltering walls and sandy bottoms, where you can kneel down and rest – and watch the big fish fighting in the current above your head.On all sides of the Canyons, the slope quickly drops down to 40 meters plus, so the only way once you get to the Canyons is… up! Try to stay for a while and admire the schooling drums, trevallies, batfish, sweetlips and the big sea fans. Inside the canyons you'll find octopus, scorpionfish, sea snakes and other reef fish. At the end of the third and deepest canyon (30 m), there is an old 1.5 meter anchor embedded in the rock, where divers often meet and hold on before letting go and starting the blue water ascent. This is the one dive site where even bigger animals are sometimes spotted: Manta rays, thresher sharks and hammerhead sharks have all been seen here. This is a dive site that changes every time you experience it, on a slack tide it can be a gorgeous dive for photographers, whereas on a strong ebb it can scare the most jaded of divers. The dive ends with a blue water ascent and a safety stop in blue water. By the time you exit, you'll find that you'll have drifted far off into the ocean. Make sure that you stay with and behind your guide at all times.
No. 2
Verde Island
Considered a special trip from Sabang, Puerto Galera. Boat arrangements will have to be made in advance to go here. 1 hour away from the Sea Rider Dive Center lies this spectacular dive site that's just hours away from Metro Manila. While we won't argue that there are amazing sites in Boracay, Palawan, Tubbataha, Subic and Apo Reef -travelling to some of these places will require flying or more than 5 hours of driving. There's great visibility and abundunce of marine life at the dive sites of Verde Island and we must say that surviving the challenging currents will be something to brag about. Giant Trevallies, Barracudas, Sweetlips, Banner Fish and Tunas are all around! This paradise is also great for macro photograhy. in between the dives you will enjoy a great BBQ on the beach, relax and have fun…
And My No. 3:
Alma Jane
Perfectly situated in 30 meters depth in close proximity to the dive shop, the wreck of the Alma Jane was sunk in 2003 (but looks much more older). Originally a Filipino cargo vessel, she was stripped of dangerous objects before sinking and is today a perfect artificial reef standing upright on the sandy bottom. Follow the mooring line down to the rudder, where you will always find groups of sweetlips, batfish and rabbit fish. Along the outline of the wreck, big scorpionfish try to blend in and puffer fish try to hide under the hull. The super structure is fast falling apart, but countless lionfish have made it their home, as well as trumpet fish and large snappers. Frogfish are very often found sitting on the wooden structure and a big variety of shrimps hide bunder the debris. Take a closer look and you will find the wheel among the fallen down objects midship. The Almajane make for a perfect swim through with its wide beam and deep draft, light comes in from several skylights so there is no need for more than a small torch.
No. 4
The Hill and/ or Shipyard
This two sites are also the famouse of Mike and Les…anytime we call it out, they are right for it…
The top of the hill lies in 5 m of water, covered with coral heads, sponges, large green tree corals and lush fields of soft coral. It then slopes down in all directions to a maximum of 15 m where a sandy bottom takes over scattered with hard coral and a proper treasure chest for finding unusual critters. The dive site is well protected between three islands, but the current can get quite strong on the wrong tide, so make sure to ask your dive master – or you might miss the dive site. This is one of the dive sites where the shy but beautiful mandarin fish lives. They come out of their fire coral home around dusk to play, or if you're lucky, to mate. Blue ringed octopus and flamboyant cuttlefish have been sighted here, as well as giant cuttlefish and lots of moray eels. If you come here at dusk, you're also likely to find shrimps, crabs and lots of brittle stars crawling over the reef.
And No. 5
Hole in the Wall
Situated on Escarceo Point, the actual hole in the wall is a short tunnel at 12 meters through a mini mountain that constitutes the dividing range between ebb and tide. This makes for a very beautiful –and sometimes VERY exciting– dive. As is common in an area where currents meet, you can expect lots of schooling fish: Drummers, sweetlips, travellies and snappers. The occasional pair of giant travelly can be seen hovering high above the rocky outcropping. Whilst you swim through the hole, beware of the lionfish and scorpionfish that are common here, as well as the feather like hydroids growing on the walls – they sting! Good boyancy is a must. The top of the wall is covered in colorful soft coral attracting many colorful fish. Octopus, frogfish, turtles, sea snakes, anything can appear here. On the other side of the wall lies another wall, definitely worth exploring if the current allows it: Covered in soft coral, sponges, green tree coral and fans, it is the hiding place for many morays and puffers and it drops off into a flat lunar like landscape with whole gardens of whip corals, vibrating in the current. This can be a very easy dive, even novices -with good buoyancy control– can dive it. Beware however that on strong floods, the current can get very tough and down currents are common, making you bounce up and down as a yoyo on your    way to the surface. Stay close to your guide and to the bottom!
maybe now you have a closer idea what YOU can expect to see here in our UW- world…please contact Mace for your UW expirience…1 dive starts at only 1000Peso, je more you dive, je more you safe…